Cancer doesnt sleep! ........... Amateur Radio team going to join them to walk the relay track all night until morning! We will keep everyone awake with our radio until the closing lap! good luck guys!
Two days to go!!! If you have nothing to do this weekend. Join us at the national cancer society "Relay for Life". Many HAM members will be there to eyeball and participate in the event.
HAM members from various clubs will be there to assist in communication and promote Amateur Radio jointly. There will be a Amateur Radio exhibition booth at the center marquee of the Bukit Jalil MSN training stadium. Entry fee is $10 per person and children below 12yrs is free. Registration open until midnight. Most of us will be there until morning. Currently, there are 20 HAM Communication volunteers and 30 HAM participants and more in the team events
Date : Saturday 31 may 2008
Time: 4 PM (to 10 am next morning.)
More information on :
http://www.cancer.org.my/
There will be many activities and competition for the family, fun and games for children. Fellow HAM member 9W2MKK who is cycling for charity from Taiping to Bukit Jalil will be arriving about 5 PM on that day.
A 2 Meter net will be held at 9 PM on 9M2RKK and 10 PM on 9M4RES to create awareness amongst members. Members can check in and make a wish towards their family and friends lost or suffering from cancer. Our Pak Dollah 9M2DS will be net controller for that day. Please stay tune to RKK all night after midnight .....we will be there to stay awake.
Come and give your support and have fun at the same time.
See you there!
Below is last year relay for life 2007 picture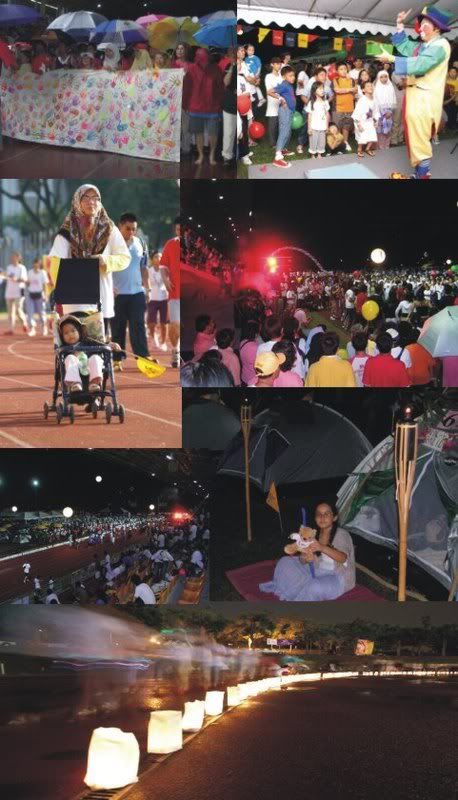 Relay for Life program Part 1
Relay for life program Part 2
Amateur Radio team program
- Ham members check this out!